Trust me on this quirky and casual reinterpretation of the classic New Orleans roast beef poor boy.  I know it sounds weird and may even look a little off (there's no French bread loaf), but it tastes familiar and is embarrassingly addictive.  You see, I was looking to create a new dip with a hometown twist.  And this happened.  If you're having a hard time with the whole deconstructed poor boy thing, think of this finger food as a spin on the old school chipped beef or dried beef dip.  I had that once at a M*A*S*H finale party.  Do any of you even know what M*A*S*H is, was?  I'm dating myself.  Never mind.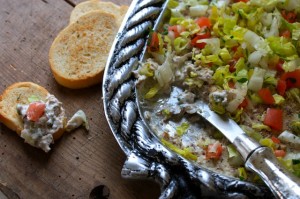 In this dish I combined deli roast beef (which is a total no-no when making a roast beef poor boy) with a cream cheese and sour cream combo that mimics the mayonnaise of a traditionally prepared poor boy.  I then spruced it up with Lea & Perrins and some other goodies to recreate the well-seasoned beef roast that any respectable poor boy would include.  The dip is "dressed" with shredded iceberg lettuce, diced tomatoes and hamburger dills–that garnish brings it all home in a bizarre and fun way.  Now if you don't like pickles on your poor boy, then please don't garnish the dip with them.  I wouldn't want you to ruin the experience!
Figuring out what do drink with this dip is a no-brainer.  If you've spent anytime in New Orleans, you know that the obligatory poor boy beverage is an ice cold beer (or root beer, preferably in a bottle).  Years ago, large volume brewers like Dixie, Jax and Falstaff ruled the roost in a City once known as the beer capital of the South. Today, Jax and Falstaff are long gone and Dixie's New Orleans facility shut down (although it still produces beer through contracts with other brewers).  Thankfully, though, New Orleans and South Louisiana are reclaiming their place on the beer map with the craft beer movement and the likes of Abita, NOLA Brewing, Heiner Brau, Bayou Teche Brewing, Parish Brewing to name a few.  If you happen to find any of these labels in your area, try them.  If not, seek out and support your own local brews.  With their wide array of styles and flavors, there's something for everyone.
Until next week …
Roast Beef Poor Boy Dip Recipe
1/2 pound deli roast beef, thinly sliced and diced
1 8-ounce package cream cheese, softened
1/2 cup sour cream
2 tablespoons Lea & Perrins (Worcestershire sauce)
1/4 cup thinly sliced green onions
1 teaspoon garlic powder
Pinch of cayenne
Salt and pepper to taste
Shredded iceberg lettuce, seeded and diced tomatoes,
chopped fresh parsley and finely diced hamburger dill
chips, for garnish
Preheat oven to 350 degrees.  In a medium bowl, combine roast beef and next six ingredients (through cayenne pepper).  Season to taste with salt and black pepper.  Pour dip into a lightly greased, shallow baking dish; bake until hot and bubbly, 15-20 minutes.  Garnish with lettuce, tomatoes, parsley and pickles (pickles are optional).  Serve warm with toasted French bread or baguette rounds or plain crackers.  Makes 6-8 servings.
Genêt