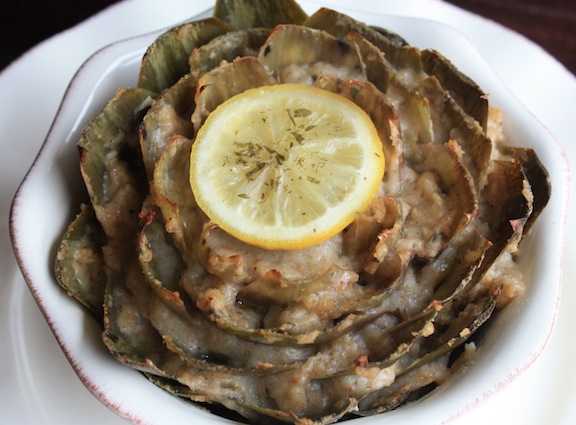 In case you woke up in a fog today, which is normally how our first week of Daylight Savings Time ends, it's Finger Food Friday!  And since tomorrow is St. Joseph's Day and St. Joseph is one of the most beloved saints among Italian-Americans, I'm stuffing artichokes.  This peculiar looking vegetable is an integral part of the New Orleans diet thanks to the huge population of Sicilians who settled in the City many moons ago and stuffing them is one of my favorite ways to pay homage to my other roots–my Italian roots.  Remember yesterday?  I mentioned I was half Irish?  Well, I'm also Italian.  A little.  Honest.  I'm not making this stuff up just to validate my participation in these two wonderful occasions.  I'm a New Orleanian, remember?  I don't need an excuse to cook or party!
If you've never eaten a Stuffed Artichoke, you're in for a real treat. To make the most of this treat, simply pluck an overstuffed leaf from the globe, hold it by the tip and place about three-quarters of it in your mouth. Then pull the leaf through your teeth, scraping the stuffing and top layer of the artichoke leaf along the way. Keep eating the artichoke in this manner until all the leaves are gone and you've reach the heart–which some proclaim to be the best part of the artichoke.  Enjoy the artichoke heart plain or chop it up in a bowl mixed with a little olive oil, vinegar, salt and pepper.  It's so, so good!
Stuffed Artichokes are one of the few finger foods I don't enjoy with beer. I'm chilling my favorite bottle of white wine, Conundrum, instead. All I can tell you about this wine (since I'm no connoisseur) is that it's relatively dry, tart and vanilla-y. Beyond that, it's a conundrum! My hubby's not into wine and actually enjoys beer with Stuffed Artichokes. So it's Miller Time for him! Regardless of what you pair it with, I have no doubt you'll enjoy the artichokes! Until next week …
Stuffed Artichokes Recipe
2 whole artichokes
2 tablespoons salt
1/2 cup extra virgin olive oil, divided
1 bunch green onions, thinly sliced
3 cloves garlic, minced
1 cup Italian bread crumbs
1 cup grated Parmesan cheese
1/4 cup fresh lemon juice
1 tablespoon anchovy paste
1 tablespoons chopped fresh parsley
1/8 teaspoon cayenne pepper
2 cups reserved artichoke water
2 lemon slices, seeded
Salt and black pepper
FOR ARTICHOKES:  Rinse under cold water. Using a sharp knife, slice off the top one-fourth of each artichoke to slightly relax the leaves for stuffing. Cut off stems even with the base so the artichokes will sit flat in a baking dish. Trim the thorns from the tip of each leaf with kitchen shears or scissors. Bring a large pot of salted water to a boil. Add artichokes, top side down. Reduce heat to a strong simmer. Cover pot and cook, turning artichokes once during cooking, until leaves can be pulled off easily, about 20 minutes. Remove pot from heat and measure out 2 cups of artichoke stock; reserve. Drain artichokes upside down in a colander; let cool slightly. When cool enough to handle, open the center of each artichoke and scoop out the thin and fuzzy leaves down to the heart.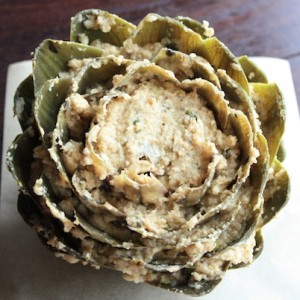 FOR STUFFING:  Heat 1/4 cup of olive oil in a large saucepan over medium heat.  Add green onions; saute until tender, 2-3 minutes.  Add garlic; cook an additional 2 minutes.  Remove pan from heat and stir in bread crumbs, Parmesan cheese, lemon juice, anchovy paste and cayenne pepper.  Gradually add enough reserved artichoke water to moisten the bread crumb mixture. Season to taste with salt and black pepper.
ASSEMBLY:  Place artichokes right side up in a large, rimmed baking dish.  Carefully spread apart the leaves and pack the bread crumb mixture into each leaf and the center of the artichoke.
BAKE:  Preheat oven to 350 degrees F.  Surround artichokes with about 1-inch of hot water.  Drizzle reserved 1/4 cup olive oil over tops of artichokes.  Place a lemon slice in the center of each.  Cover tightly with aluminum foil and bake until the cheese is melted and the artichokes are heated through, about 20 minutes.  Allow artichokes to cool slightly before serving.

DO-AHEAD TIPS:  Stuffed artichokes can be prepared in advance, through the assembly stage, and frozen individually in plastic wrap and a resealable freezer bag.  Thaw and bake as directed above.  Makes 6-8 appetizer servings.
Genêt
Related posts: