I'm sharing a special love letter with you on this Valentine's Day. This is not your typical mushy, make-you-blush kind of letter. No, the love letter I'm posting for all the world to see is actually my great-grandmother's recipe for Turtle Soup as written by her son, my grandfather. I cherish this piece of paper like I would a love letter because it captures not only a special family recipe but a part of my Grandma Kirn who, more than anything, loved to feed us. It's also the only item I have in my possession with my grandfather Papa's beautiful cursive handwriting. This wrinkled loose leaf paper also has plenty of unwritten sentiments within its four corners–the stories behind catching and butchering a turtle (interesting process, but one I won't get into here for fear it will spoil your appetite), the vivid memories of meals shared with Grandma and Papa who are no longer with us and all the special occasions on which this wonderful soup brought our family together.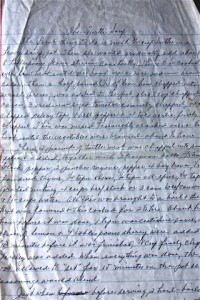 Turtle Soup is also Valentine's Day appropriate because preparing this recipe is a labor of love. I'm talking four hours of labor.  First, the meat needs to be trimmed and diced.  This step alone can take upwards of an hour (unless you use a food processor which I do not because I like to make it the same way Grandma did). Then the remaining ingredients need to be added patiently, in stages, so their flavors can fully develop before they're introduced to the rest of the pot.  And finally, everything needs to simmer for two to three hours before it's fully transformed into the dark, rich, distinctively delicate soup it's meant to be.  Trust that anyone willing to make this for you truly cares about you.  That makes Turtle Soup all the more special. Happy Valentine's Day!
The Turtle Soup Recipe
1 1/2 sticks butter
1/2 cup all purpose flour
1/2 pound lean ham, diced small
3 medium tomatoes, seeded and diced
1 cup chopped onions
1/2 cup chopped green bell pepper
1/4 cup chopped celery
4 garlic cloves, minced
2 pounds turtle meat, trimmed and diced small*
4 bay leaves
2 teaspoons salt
1 teaspoon black pepper
1/2 teaspoon dried thyme leaves
1/4 teaspoon ground cloves
1/4 teaspoon ground allspice
1/4 teaspoon ground nutmeg
1/8 teaspoon cayenne pepper
4 cups beef stock (or 3 10 3/4-ounce cans beef consomme plus 1 1/2 cups water)
1/4 cup dry sherry
1 tablespoon Lea & Perrins (Worcestershire sauce)
2 thin slices fresh lemon
1/4 cup chopped fresh parsley
2 hard-boiled eggs, grated (optional)
In a large saucepan or Dutch oven, melt butter over low heat.  Gradually whisk in flour. Whisk constantly until a medium brown (peanut butter) roux is achieved.  Add ham, tomatoes, onions, bell pepper, celery and garlic.  Cook, stirring frequently, until vegetables are tender and browned, 20-30 minutes.  Add turtle meat; cook, stirring frequently, until browned, 8-10 minutes.  Add bay leaves, salt, black pepper, thyme, cloves, allspice, nutmeg and cayenne pepper; cook an additional 2 minutes.  Add beef stock; bring to a boil.  Reduce heat to low and partially cover pot.  Cook, stirring occasionally, until turtle meat is tender, about 2 hours.  Add Lea & Perrins, lemon and sherry; cook an additional 30 minutes.  Stir in parsley.  Remove from heat and allow soup to "set" for 15 minutes.  Right before serving, stir in hard boiled eggs.  Serve hot with lots of French bread.  Serves 6-8.
* In Louisiana, fresh or frozen turtle meat is available in grocery stores and seafood markets. Some specialty grocers throughout the country may also carry it. If you can't find turtle meat in your area, you can order it online from several different New Orleans seafood markets including Fisherman's Cove.
Genêt