Have you had your fill of seafood yet?  I hope not because today I've got another one for you.  My Shrimp Mold.  Well, it's not actually my Shrimp Mold.  I didn't create it but I have tweaked it.  This is one of those delicious finger foods that's been around for decades, although you may be more familiar with the pink version which is basically the same thing made with tomato soup instead of cream of mushroom.  I've had both but prefer those made this way.  The other ones are too tangy for me. Preferences aside, this is yet another good picking food to have on hand during the holidays.  It's simple to make, feeds a crowd and keeps for several days in the fridge.
Now for those of you cringing at the thought of eating anything "molded" because it conjures up bad childhood memories of being force-fed congealed salads, please indulge me for a sec.  This Shrimp Mold is nothing like that.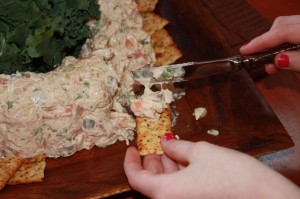 It doesn't have a funky jello-y consistency or a jiggly bite.  It contains only enough gelatin to mold a mighty fine tasting shrimp dip into a pretty shape. With that said, it's important to mix the gelatin with warm water and quickly and vigorously incorporate it into the shrimp mixture.  If the gelatin starts to harden before it's fully incorporated, you could end of with small clumps of gelatin throughout the mold.  I had a bad case of gelatin clumps once. It wasn't pretty. But I've since learned the error of my ways which is why I'm sharing all this with you.
Also, if you suffer from the all too common fear of unmolding, seek professional help.  Just kidding!  Invest in a flexible gelatin mold.  They may not be as fancy as the copper ones that some people collect, but they're much easier to use.  When I was 19, I bought one of those 3-piece Tupperware ones (the "Jel-Ring"), which by the way is still in perfect condition.  The removable top and bottom make unmolding a breeze.  If you choose to use a metal mold, here are a few suggestions:
Coat the inside with cooking spray and place the mold in the freezer to set (so the filling doesn't absorb the spray).  Pour the filling into the mold and chill overnight.
When ready to serve, gently press the edges of the filling with your fingers to help release it from the sides of the mold.  Invert the mold on a serving platter and tap the top and sides with the back of a knife.  Carefully lift the mold away from the filling.
If the mold still won't budge, place a hot towel over it for a minute or two to break the seal.
And finally, about the shrimp.  In New Orleans, we boil a mean pot of highly seasoned shrimp and usually make a Shrimp Mold with the leftovers. Or we run to the nearest seafood market and grab a few pounds of their similarly seasoned stash. If neither of those options are available to you, ask the seafood person at your local grocery store if they can steam them for you.  Most major grocery store chains will do that at no additional cost (assuming you buy the shrimp from them).  Be sure to also ask them to season the shrimp with something very flavorful like a Cajun/Old Bay mix.  Now, on to the liquid refreshments!
What should one drink with Shrimp Mold? That is the question. Let's see.  An IPA is always a good choice–hoppy and spicy like each other very much.  According to the hubby, a Miller Lite works too (I wouldn't know, but he's a trustworthy guy.).  And white wine is always nice.  Sorry for not being much help in the beverage department.  I can't seem to make up my mind today.  Hopefully I'll shake that problem before Black Friday.
Until then …
Shrimp Mold Recipe
3 pounds well-seasoned small (41 or higher count) or medium (26-40 count) boiled or steamed shrimp
2 3-ounce packages cream cheese, softened
1 10 3/4-ounce can cream of mushroom soup
1 cup mayonnaise
1 bunch green onions, chopped
1 cup chopped celery
1 tablespoon fresh lemon juice
1 teaspoon Creole seasoning
Dash of Tabasco
Dash of Lea & Perrins (Worcestershire sauce)
1 envelope plus 1 teaspoon Knox unflavored gelatin
3 tablespoons warm water
Peel shrimp and discard shells.  Cut shrimp into thirds; set aside.  In a medium saucepan over medium heat, combine cream cheese and soup; cook until cream cheese melts, stirring frequently to prevent scorching.  Remove soup mixture from heat. Stir in reserved shrimp, mayonnaise, green onions, celery, lemon juice, Creole seasoning, Tabasco and Lea & Perrins.  In a small bowl, stir gelatin in water until dissolved.  Add gelatin to shrimp mixture and stir quickly and vigorously to incorporate.  Pour mixture into a mold, cover and refrigerate overnight. Unmold onto a nice platter. Serve cold with assorted crackers.  Makes 8-10 appetizer servings.
Genêt