In New Orleans, we have this sauce called bordelaise.  It bears the same name as, but is much different than the classic French sauce.  The French version is all about red wine and bone marrow.  Ours is garlic-centric.  We like to toss it with pasta, spoon it over sizzling seafood and steaks and splash it on steamed veggies.  Believe me when I say, this sauce is delicious on everything and anything … including pizza!  Yes, pizza.  I use it as both the sauce, in place of the traditional red gravy/marinara base, and to amp up the flavor of my mild cheese topping. The finished product is a richly flavored creamy and crunchy pizza that can be eaten as is or topped with additional goodies like prosciutto and arugula or grilled or fried seafood.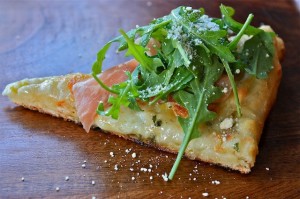 What to drink with a luxurious pizza such as this you might ask?  How about a Smooth Hoperator (that's "HOP"erator) by Stoudt's Brewing Company?  This beer falls under the doppelbock (double bock) category, a German-style lager heavy on the malts and alcohol. I'm not a big doppelbock fan, but I like this one because it also has some IPA characteristics. Just be careful on the pour, this craft beer foams up much quicker than most.
Until next week, Happy Finger Food Friday!
Pizza Bordelaise Recipe
12 small fresh mozzarella balls (about half of an 8-ounce container)
1/2 cup New Orleans Bordelaise Sauce, cooled and divided (see recipe)
1/4 cup shredded mozzarella cheese
1/4 cup shredded Parmesan cheese
1/4 cup heavy cream
Salt and pepper to taste
Zatarain's Seasoned Fish-Fri or cornmeal, for dusting
1 homemade or premade pizza dough
Preheat oven to 475 degrees.  Slice mozzarella balls in half and place in a medium bowl; mash with the back of a fork.  Add 1/4 cup bordelaise sauce, shredded mozzarella, Parmesan and cream; stir to combine.  Season to taste with salt and pepper.  Set aside.  Line a large baking sheet with parchment paper; sprinkle with Fish-Fri or cornmeal.  Set aside.  Place pizza dough on a lightly floured surface and roll out to desired thickness.  Transfer dough onto baking sheet.  Brush with reserved 1/4 cup bordelaise sauce.  Top with cheese mixture.  Bake until crust is puffy and golden brown, 6-8 minutes.  Slice and serve.  Makes 1 large pizza.
New Orleans Bordelaise Sauce Recipe
1 stick butter
4 tablespoons extra virgin olive oil
6 large garlic cloves, minced
1/4 cup sliced green onions
1/4 cup chopped fresh parsley
1 teaspoon Lea & Perrins (Worcestershire sauce)
Pinch of cayenne pepper
Salt and pepper to taste
In a small saucepan over low heat, melt butter with olive oil.  Add garlic and green onions.  Cook slowly, occasionally shaking the pan, until garlic starts to turn light brown, 15-20 minutes.  Remove pan from heat and stir in parsley, Lea & Perrins and cayenne pepper.  Add salt and pepper to taste.   Makes about 2/3 cup.
Genêt