In Louisiana, we define the four seasons by Crawfish, Shrimp, Crab and Oyster.  It's a unique and appetizing way to get through the year.  As one delicious season ends, another much-anticipated one begins.  Currently, crawfish season is winding down and shrimp season is gearing up.  Plump, juicy, sweet Louisiana shrimp.  There's nothing like them!  And this season, however young, is already proving to be grand.  I know because I had the good fortune of receiving a pound of wild jumbo Louisiana shrimp straight from the deck of the Anna Marie (a South Louisiana fishing vessel) through the efforts of the Louisiana Seafood Promotion & Marketing Board.  I was so excited to receive those beauties!  However, the pressure was on to create a knockout recipe that showcased the shrimp's exceptional size and enhanced their delightful flavor.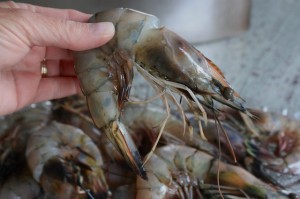 Jumbo shrimp average 11 to 15 per pound (that's according to my own "shrimp sizing" guidelines).  They're big.  And as such, they should be the focal point of any recipe.  They should not, under any circumstances, be tossed in a pot of gumbo or chopped up for stuffings or your favorite seafood dip.  The less-impressive, but still yummy, small and medium shrimp are best suited for those types of dishes.  I decided to keep the jumbo shrimp front and center by swaddling them in a thin blanket of andouille bread crumbs, baking them to perfection and plating them in a shallow bath of brown butter cream. Nothing more. Nothing less. What I ended up with was pure food bliss compliments of the bountiful waterways of Louisiana!  You can experience that same bliss by purchasing fresh Louisiana shrimp from your local seafood market or ordering them directly from Anna Marie Shrimp or any of the other local fishermen listed in the Louisiana Seafood directory (seafood finder).
In keeping things local, I thought it would be nice to serve those shrimp with some down home brews from Abita or NOLA Brewing. Or, better yet, a Pat O'Brien's Hurricane. The mix is sold at just about any liquor or grocery store.  All you do is add rum and a fresh fruit garnish (the garnish is optional).  It's the perfect warm weather, Louisiana shrimp season sipper!
Until next week …
Andouille Crusted Jumbo Louisiana Shrimp with Brown Butter Cream Sauce Recipe
2 pounds jumbo (11-15 count) Louisiana shrimp, peeled and deveined, with tails intact
6 ounces andouille sausage, casing removed and coarsely chopped
1/4 cup extra virgin olive oil, divided
1/2 cup chopped onions
2 garlic cloves, minced
1 cup all purpose flour
1 large egg, lightly beaten
1/4 cup milk
1 cup Italian bread crumbs
1 teaspoon Creole seasoning
Kosher salt and black pepper
3/4 cup Brown Butter Cream Sauce, see recipe
Preheat oven to 425 degrees.  Lightly grease a large rimmed baking sheet with cooking spray; set aside.  Place shrimp in a large bowl and toss with 2 teaspoons salt and 1 teaspoon pepper.  Allow to sit at room temperature while you make the andouille crust.
Place andouille in a large saute pan over medium-high heat; drizzle with 2 tablespoons olive oil (this will help start the cooking process).  Cook, stirring frequently, until browned, about 5 minutes.  Add onions and garlic and cook an additional 3 minutes.  Remove pan from heat and season mixture to taste with salt and pepper.  Set aside to cool.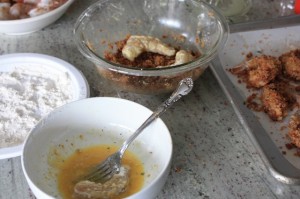 Meanwhile, place flour in a large shallow dish; season to taste with salt and pepper.  In a separate dish, combine beaten egg and milk; season to taste with salt and pepper.  Transfer andouille mixture to a food processor.  Add bread crumbs, reserved 2 tablespoons olive oil and Creole seasoning.  Process on high until a soft, moist breading is formed; pour into a shallow dish.  Working in batches, dredge the shrimp in the seasoned flour, dip in the egg wash then coat thoroughly with the andouille-bread crumb mixture.  Place in a single layer on the prepared baking sheet and bake, turning once, until shrimp are cooked through and andouille crust is a deep golden brown, 12-15 minutes.  Serve immediately with Brown Butter Cream Sauce.  Serves 6-8.
Brown Butter Cream Sauce Recipe
1 stick unsalted butter
1/4 cup chopped green onions
2 tablespoons Lea & Perrins (Worcestershire sauce)
2 tablespoons fresh lemon juice
1 teaspoon parsley flakes
1/2 teaspoon salt
1/8 teaspoon black pepper
Pinch of cayenne pepper
1/2 cup heavy cream
In a medium skillet over medium heat, melt butter.  Cook, stirring frequently, until butter begins to brown, about 5 minutes.  Add green onions; saute until tender, about 3 minutes.  Stir in Lea & Perrins, lemon juice, parsley flakes, salt, black pepper and cayenne pepper; cook an additional minute.  Add cream.  Cook, stirring frequently, until cream is reduced by one-fourth.  Serve immediately.  Makes about 3/4 cup.
Genêt